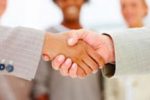 Have you ever tried to change a habit? Initiating and successfully maintaining new behavior is challenging for all of us. Every day, coaches and trainers are attempting to help talent to leverage their signature strengths and start, stop, and change behaviors that are part of our unconscious competence. Our new book, Clueless: Coaching People Who Just Don't Get it, introduces a powerful three-step, individual change behavior model, along with structured exercises to facilitate successful behavior change.
The Three E Model
In order to successfully initiate and maintain behavior change, people move through three specific stages that we call "Enlighten," "Encourage," and "Enable" — the 3 "E" Model.
This theoretically derived behavior model (from leadership, health psychology, and behavioral medicine literature) provides a context for coaches to understand the dynamics of the behavioral change process and the special role that feedback plays in facilitating a readiness and sense of confidence to begin a developmental journey. Each of the progressive stages is affected by individual and organizational variables, and are focused on individual behavioral change and targeting enhanced effectiveness.
More important, each stage represents a milestone for your clients to move through. If successful, they will be able to transition from successful adopters to successful maintainers of new behaviors.
Stage I: Enlighten
During this Enlighten stage, the coach is using the data from a feedback process (e.g., interviews or 360-degree assessments) to help the coachee to interpret the meaningfulness of rater perspectives compared with their own self-perceptions. One important role of the coach during this stage is to help manage potential coachee reactions to ensure that the feedback does not elicit disengagement or cause the coachee to ignore it or to overly emphasize it (Smither, London & Reilly, 2005).
Reactions from any feedback process may range from being pleasantly surprised to experiencing hurt, anger, and even depression, with predictable consequences for performance, health, and psychological well-being (Eisenberger et al., 2003). As Joo (2005) has pointed out, the feedback orientation and personality directly affect the coachee's openness to the coach's input, suggestions, and feedback, which can affect the overall effectiveness of the intervention.
Stage II: Encourage
One key to successful, long-term behavioral change is in the planning process that should also include deliberate practice of newly acquired skills or leveraging of one's strengths. The coach's role is to ensure the translation of the Enlighten stage to the creation of a realistic, specific, and measurable performance development plans in the Encourage stage. Goal setting and developmental planning are generally addressed in most feedback models (Gregory et al., 2008), and as previously pointed out, coaching appears to significantly help the coachee translate awareness and motivation into specific behavioral change goals (Smither et al., 2005).
The Encourage stage involves gaining commitment with the coachee toward a collaborative and explicit behavioral change plan. The coach, during this stage, explores signs of resistance and actively strengthens clarity of action plan goals and commitment to implement them. The coachee's motivation to change is a function of the discrepancy between their action plan goal and current situation. Coaches also should help the coachee to see if the goal is realistic, as a large gap between ideal and current states may actually decrease confidence to sustain change over time, leading to possible relapse (Parks & Marlatt, 1999).
Motivational interviewing (MI) is a useful individual-based approach for coaches and consultants to assist coachees to reflect and target specific developmental goals to work on and a powerful way to enhance self-insight and commitment to change. It is a style that values and emphasizes the coachee's self-evaluations, values, interests and motives and utilizes reflective listening and probing to help the coachee make lasting behavioral changes.
MI is a collaborative approach to identifying motivations to change, potential obstacles, targeted goal setting and reappraisal to ensure long term success without being overly directive with the coachee (Passmore, 2007). The coach must identify the key "readiness to change" stage from Precontemplation (no intention to change), contemplation, preparation, action, maintenance, and relapse and apply specific approaches, techniques and strategies at each stage to help facilitate successful long-term success (Prochaska & Velicer, 1997).
Stage III: Enable
This is the stage in which coaches begin to actually help the coachee acquire new knowledge, increase self-efficacy, and reinforce deliberate practice of skills to initiate and maintain important new behaviors. In general, coachees are more likely to try new behaviors in which they are confident in a successful outcome and feel a sense of mastery in maintaining it over time, despite some possible setbacks and challenges.
Advertisement
If the coachee is lacking confidence in his or her ability to implement the plan, the chances that he or she will maintain it over time will be low. It is the role of the coach to provide encouragement and support with their coachees to explore their feelings about their developmental journey through structured emotional expressive writing or by probing directly for reactions, reflections and insights in each session.
This Enable stage is critical for long-term success of any behavior modification program, and this stage is often overlooked or minimized by many coaches. When possible, coaches should be working during this stage to help the coachee manage lapses, recognize successes, enlist the power of social support systems (such as help educate the coachee's manager about what he or she can do to follow-up and reinforce key behaviors and learning), and focus on progress through structured reminders, recognizing and rewarding goals, and to evaluating overall success.
The coach's role is to assist the coachee with re-evaluating the importance of their goals and exploring some relapse prevention strategies to prepare the coachee for the inevitable lapses that accompany any behavioral change effort. For example, the coach could help the coachee anticipate future unavoidable high-risk situations and prepare for inevitable lapses with his or her boss or work team. Encouraging ways for the coachee to reward sustained behavior is also something the coach can discuss during their follow-up meetings, along with an analysis of the coachee's professional and social support network and what role he or she can play in maintaining new behaviors over time.
Final Word
The Three "E" Model (Enlighten, Encourage and Enable) emphasizes the role of coach's skills and organization's culture (such as a manager's involvement to reinforce and be held accountable for successful completion of development plans of their talent) to initiate behavioral change and attempts to recognize the fragility of sustaining these behaviors without relapsing. Coaches and trainers can use this individual change model to design individual and team interventions that maximize learning transfer and sustain successful habit change over time.
—————————————————————-
References
Eisenberger NI, Lieberman MD, Williams KD. (2003). Does rejection hurt? An fMRI study of social exclusion. Science, 302, 290–292.
Gregory, J. B., Levy, P.E. & Jeffers, M. (2008). Development of the feedback process within executive coaching. Consulting Psychology Journal: Practice and Research, 60, 42-56.
Joo, B. K. (2005). Executive coaching: A conceptual framework from an integrative review of research and practice. Human Resource Development Review, 4, 134-144.
Mashihi, S. & Nowack, K. (2011). Clueless: Coaching people who just don't get it. Santa Monica: Envisia Learning, Inc.
Nowack, K. (2009). Leveraging Multirater Feedback to Facilitate Successful Behavioral Change. Consulting Psychology Journal: Practice and Research, 61, 280-297.
Passmore, J. (2007). Addressing deficit performance through coaching – using motivational interviewing for performance improvement at work. International Coaching Psychology Review, 2, 263-273.
Parks, G. A. and Marlatt, A. (1999). Relapse prevention therapy for substance-abusing offenders: A cognitive-behavioral approach in what works: In E. Latessa (Ed.), Strategic solutions: The international community corrections association examines substance abuse. (pp. 161- 233). Lanham, MD.
https://spectracoaching.com/wp-content/uploads/2016/03/handshake-e1483741538517.jpg
100
150
Sandra Mashihi
http://spectracoaching.com/wp-content/uploads/2017/01/Spectra-Logo-Blue-300x93.jpg
Sandra Mashihi
2016-06-03 21:00:55
2017-02-03 02:39:27
Clueless Part 1: A Model for Coaching Leaders to Change their Behaviors