The Executive Coaching program helps leaders learn new strategies and behaviors that result in high performing teams, strong relationships, and effective leadership abilities.Executive Coaching is an excellent program for:
WHO CAN BENEFIT FROM EXECUTIVE COACHING?
A professional who is transitioning into a new leadership role
A leader who is managing underperforming team members
A leader who is faced with high staff turnover
A leader who is highly successful at his/her specialty, but less successful at leading employees
A leader who wants to take his/her business to the next level
A leader who has a skill or performance deficit
A leader who wants to work on issues such as self-awareness, work/life balance or personal success
A leader who wants to learn to influence various stakeholders including upper management, colleagues, peers and decision-makers
WHAT DO YOU GAIN FROM EXECUTIVE COACHING?
Training an Effective Team
Organizational Culture and Leadership Immersion
Interpersonal Skills
Influencing Skills
Conflict Management
Decision Making Skills
On-boarding & Ramp-up for a New Leadership Position
Performance & Productivity Issues of Self and Direct Reports
Stress Management
Work/Life Integration
Vision Setting
What is Our Leadership Coaching Model?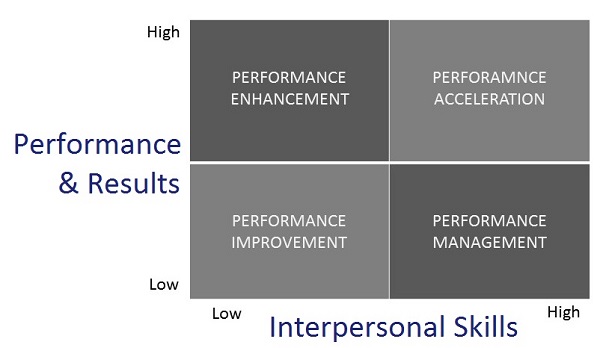 Clueless: Coaching People Who Just Don't Get It
Effective Leadership strikes the right balance between relationship skills (e.g.
influencing, communicating, delegating, building trust, establishing buy-in) and
performance skills (e.g. sales, operations, marketing, etc.). Ideally, an effective
leader is both interpersonally savvy and successful at the tasks of the job.
The model is used for the basis for the coaching program is based on two
factors: 1) job performance and 2) interpersonal competence. Each area has
specific goals, typical assessments to be used, and approaches to maximize
both individual goals and organizational outcomes.